Housing cylindrical roller bearing
Product Detail
Product Tags

Cylindrical roller bearing is separable bearing whose inner ring and outer ring is separate. It can bear large radial load and can work under high speed operations. According to whether there is guard on the ring or not, cylindrical roller bearing can be divided into single row bearing like N, NU, NUP, NF, NJ series and double row bearing such as NNU,NN series.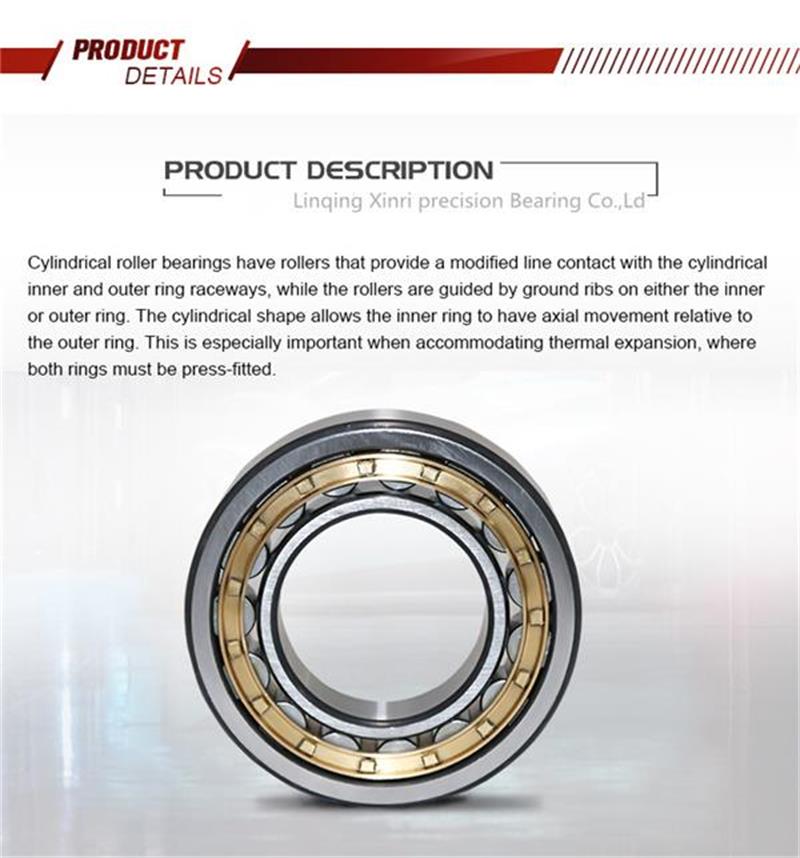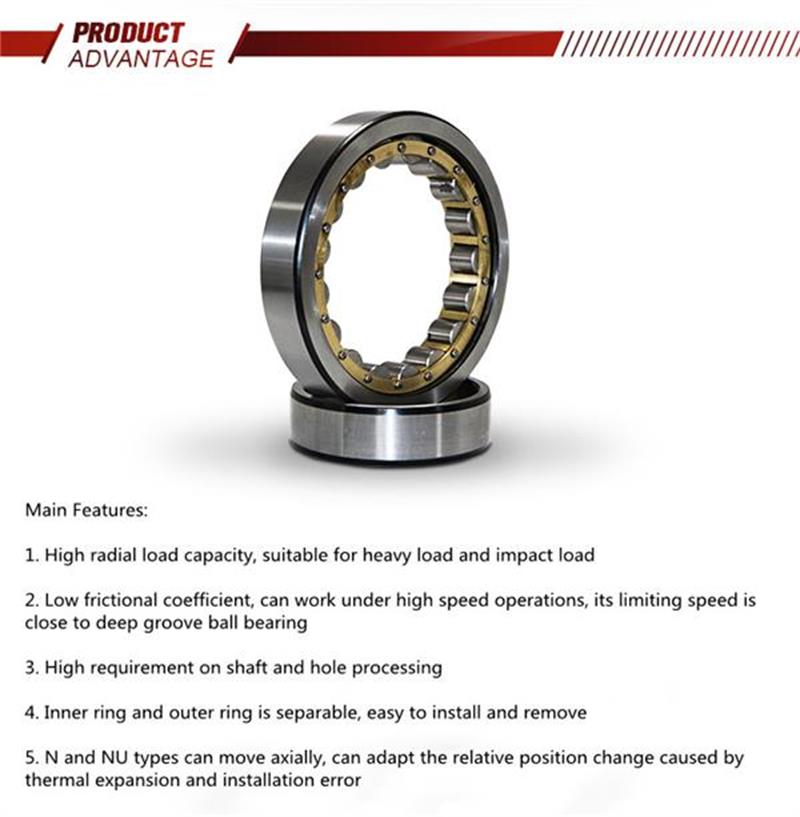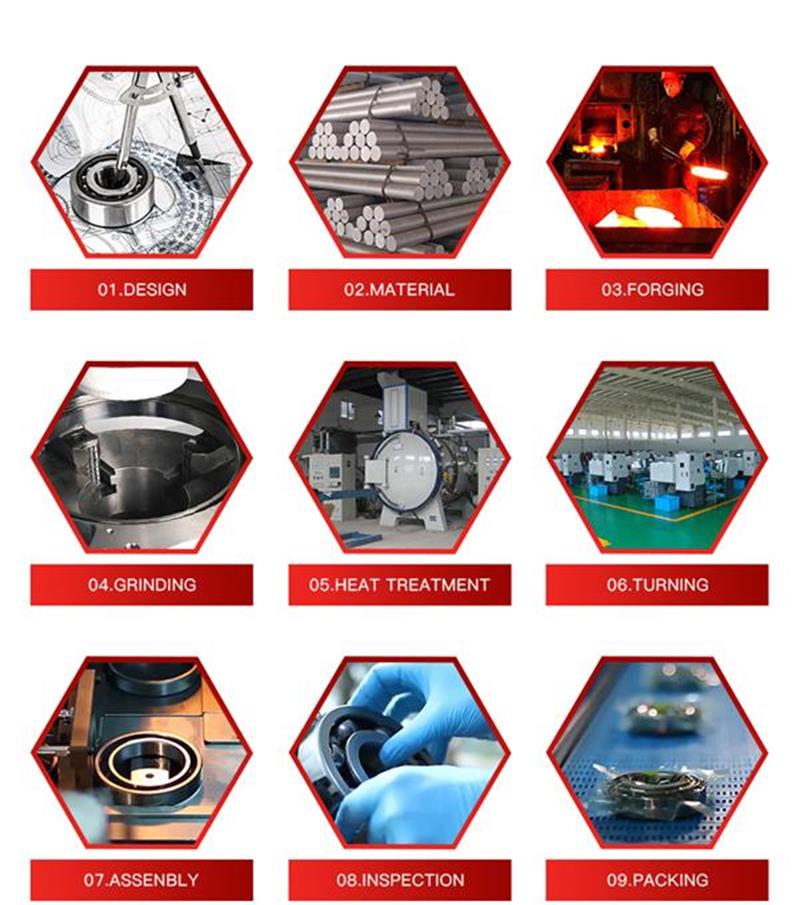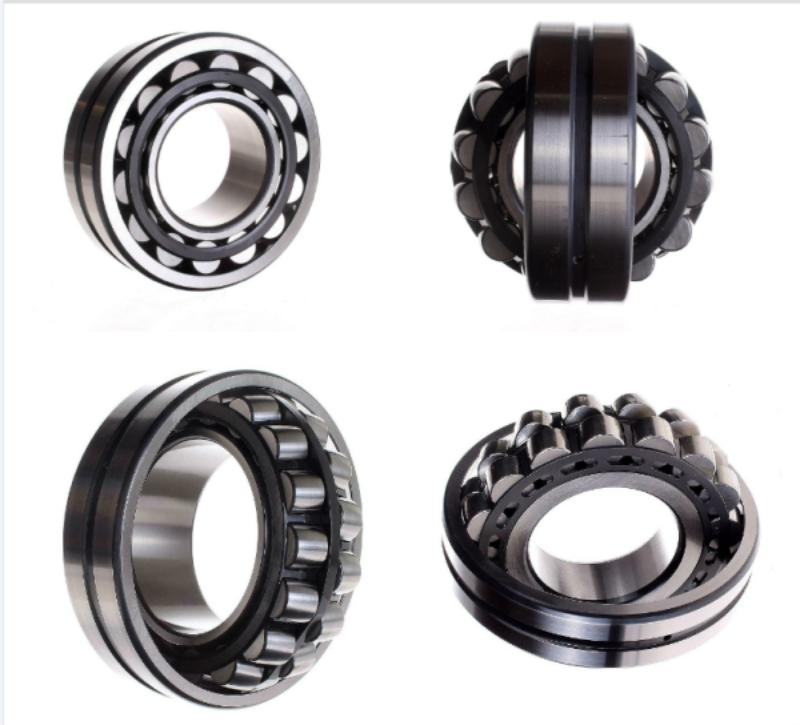 Type of cylindrical roller bearing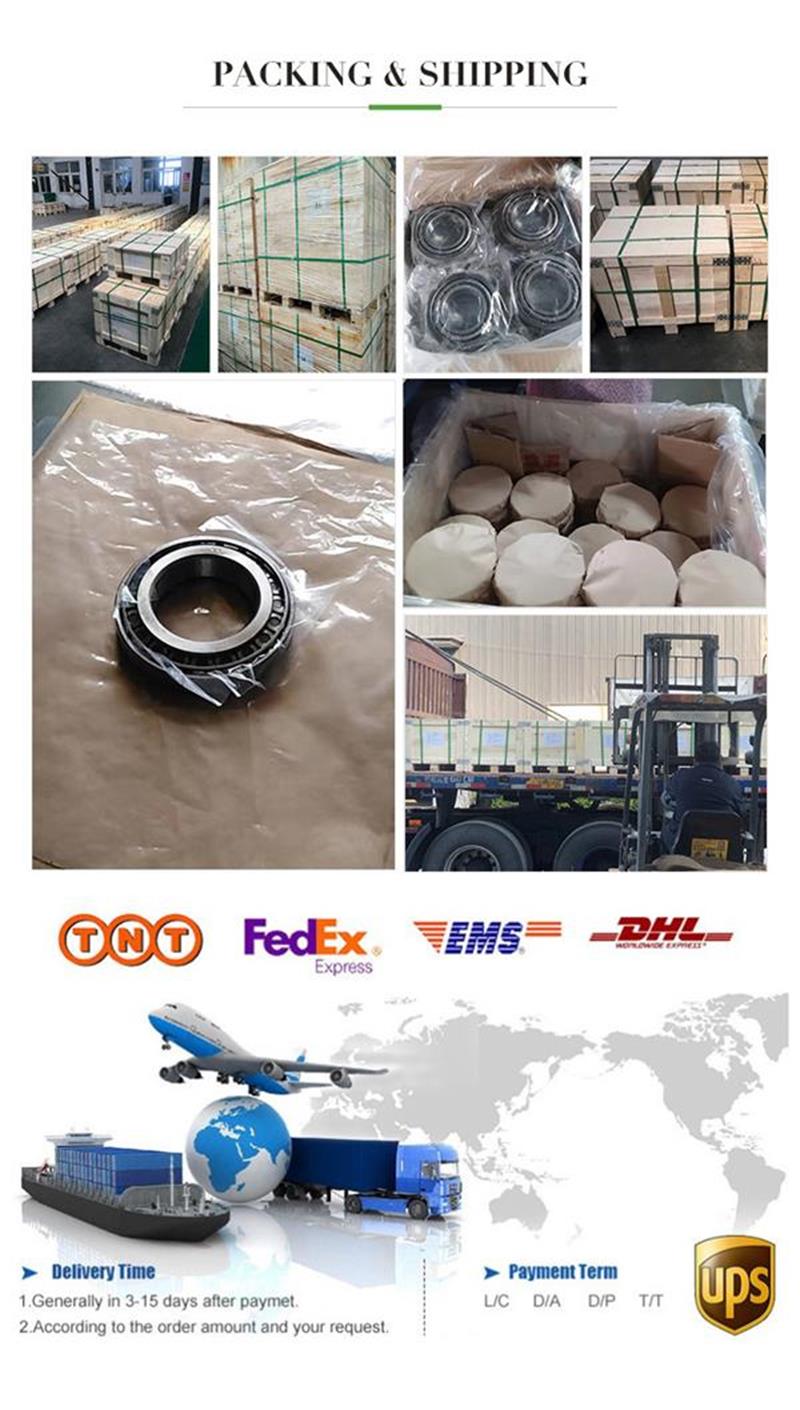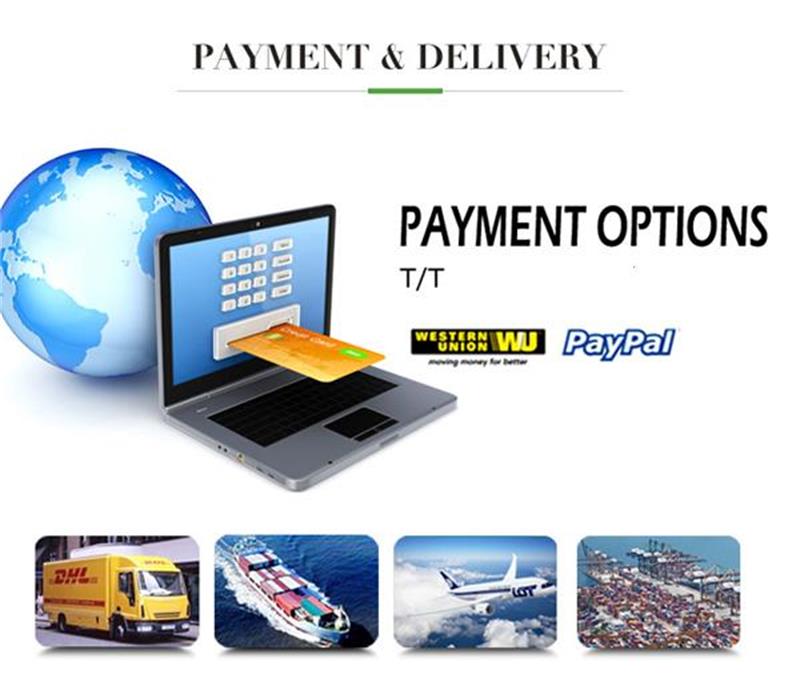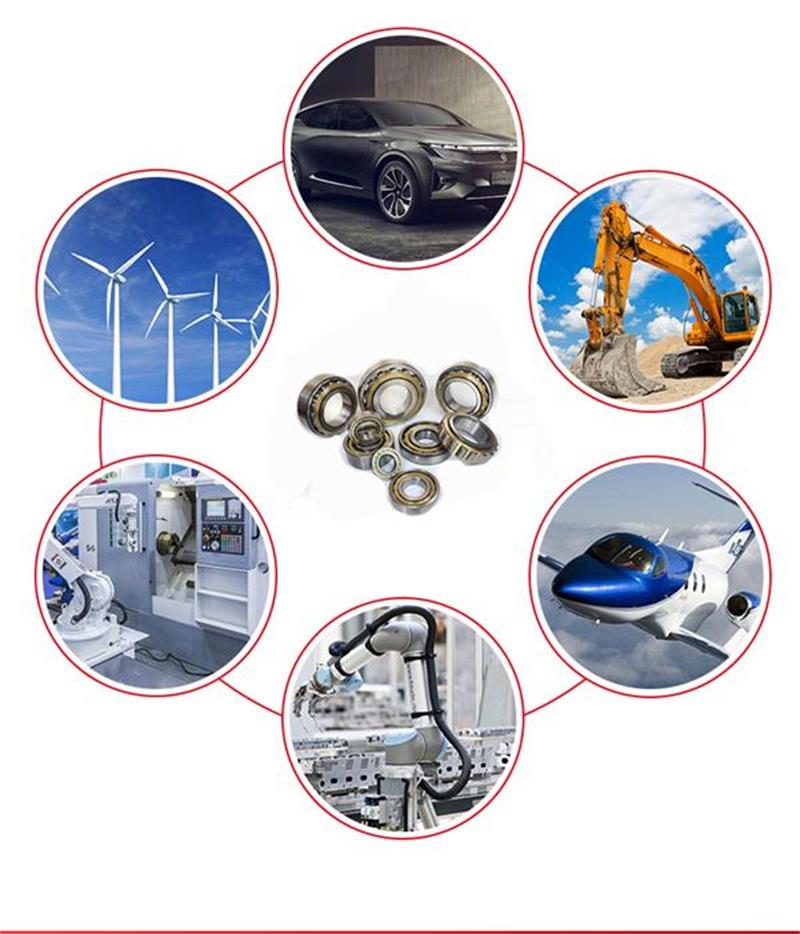 These bearings are widely used in metallurgy, mining, petroleum, paper making, cement and other large machinery and equipment.
Bearing.No
Dimensions(mm)
Loading
Maximum Speed
Weight
NU
NJ
NUP
N
NF
d
D
B
Fw
Ew
r
ri
Cr
Cor
Grease
Oil
Kg
NU312
NJ
NUP
N
NF
60
130
31
77
113
2.1
2.1
124
126
4800
5600
1.82
NU312E
NJ
NUP
N
-
130
31
77
115
2.1
2.1
150
157
4300
5000
1.87
NU2312
NJ
NUP
NF
130
46
77
113
2.1
2.1
169
188
4300
5300
2.69
NU2312E
NJ
NUP
N
-
130
46
77
-
2.1
2.1
222
262
4300
5300
3.01
NU412
NJ
NUP
N
-
150
35
83
127
2.1
2.1
167
168
4300
5300
3.05
NU1013
-
-
N
-
65
100
18
74..5
90.5
1.1
1
41
51
6300
8000
0.514
NU213
NJ
NUP
N
NF
120
23
79.5
105.5
1.5
1.5
84
94.5
5300
6300
1.06
NU213E
NJ
NUP
N
-
120
23
78.5
108.5
1.5
1.5
108
119
4800
5600
1.18
NU2213
NJ
NUP
N
-
120
31
79.5
105.5
1.5
1.5
120
149
4800
6000
1.43
NU2213E
NJ
NUP
-
120
31
78.5
-
1.5
1.5
149
181
4800
6000
1.65
NU313
NJ
NUP
N
NF
140
33
83.5
121.5
2.1
2.1
135
139
4500
5300
2.27
NU313E
NJ
NUP
N
-
140
33
82.5
124.5
2.1
2.1
181
191
4000
4800
2.55
NU2313
NJ
NUP
N
NF
140
48
83.5
121.5
2.1
2.1
188
212
4000
4800
3.25
NU2313E
NJ
NUP
-
-
140
48
82.5
-
2.1
2.1
247
287
3800
4800
3.56
NU413
NJ
NUP
N
-
160
37
89.5
135.5
2.1
2.1
195
203
4000
4800
3.68
NU1014
-
-
N
-
70
110
20
80
100
1.1
1
58.5
70.5
6000
7100
0.712
NU214
NJ
NUP
N
NF
125
24
84.5
110.5
1.5
1.5
83.5
95
5000
6300
1.16
NU214E
NJ
NUP
N
-
125
24
83.5
113.5
1.5
1.5
119
137
4600
5600
1.26
NU2214
NJ
NUP
N
-
125
31
84.5
110.5
1.5
1.5
119
151
4800
5600
1.52
NU2214E
NJ
NUP
-
-
125
31
83.5
-
1.5
1.5
156
194
4600
5600
1.68
NU314
NJ
NUP
N
NF
150
35
90
130
2.1
2.1
158
220
4000
5000
2.73
NU314E
NJ
NUP
N
-
150
35
89
133
2.1
2.1
205
222
3600
4300
3.15
NU2314
NJ
NUP
N
NF
150
51
90
130
2.1
2.1
223
262
3800
4500
3.97
NU2314E
NJ
NUP
-
-
150
51
89
-
2.1
2.1
274
325
3600
4500
4.3
NU414
NJ
NUP
N
-
180
42
100
152
3
3
228
236
3600
4300
5.4
NU1015
-
-
N
-
75
115
20
85
105
1.1
1
60
74.5
5600
6700
0.745
NU215
NJ
NUP
N
NF
130
25
88.5
116.5
1.5
1.5
96.5
111
4800
6000
1.24
NU215E
NJ
NUP
N
-
130
25
88.5
118.5
1.5
1.5
130
156
4300
5300
1.38
NU2215
NJ
NUP
N
-
130
31
88.5
116.5
1.5
1.5
130
162
4500
5300
1.57
NU2215E
NJ
NUP
-
130
31
88.5
-
1.5
1.5
162
207
4300
5300
1.8
NU315
NJ
NUP
N
NF
160
37
95.5
139.5
2.1
2.1
190
205
3800
4800
3.21
NU315E
NJ
NUP
N
-
160
37
95
143
2.1
2.1
240
263
3400
4000
3.7
NU2315E
NJ
NUP
N
NF
160
55
95.5
139.5
2.1
2.1
258
300
3400
4300
4.84
NU415
NJ
NUP
-
-
160
55
95
-
2.1
2.1
330
395
3400
4300
5.3
NU415E
NJ
NUP
N
-
190
45
104.5
160.5
3
3
262
274
3400
4000
6.4
NU1016
-
-
N
-
80
125
22
91.5
113.5
1.1
1
72.5
90.5
5300
6300
1.03
NU216
NJ
NUP
N
NF
140
26
95
125
2
2
106
122
4500
5300
1.53
NU216E
NJ
NUP
N
-
140
26
95.3
127.3
2
2
139
167
4000
4800
1.66
NU2216
NJ
NUP
N
-
140
33
95
125
2
2
147
186
4000
5000
1.96
NU2216E
NJ
NUP
-
-
140
33
95.3
-
2
2
186
243
4000
5000
2.15
NU316
NJ
NUP
N
NF
170
39
103
147
2.1
2.1
190
207
3600
4300
3.93
NU316E
NJ
NUP
N
-
170
39
101
151
2.1
2.1
256
282
3200
3800
4.38
NU2316
NJ
NUP
N
NF
170
58
103
147
2.1
2.1
274
330
3200
4000
5.83
NU2316E
NJ
NUP
-
-
170
58
101
-
2.1
2.1
355
430
3200
4000
6.35
NU416
NJ
NUP
N
-
200
48
110
170
3
3
299
315
3200
3800
7.45
---
---